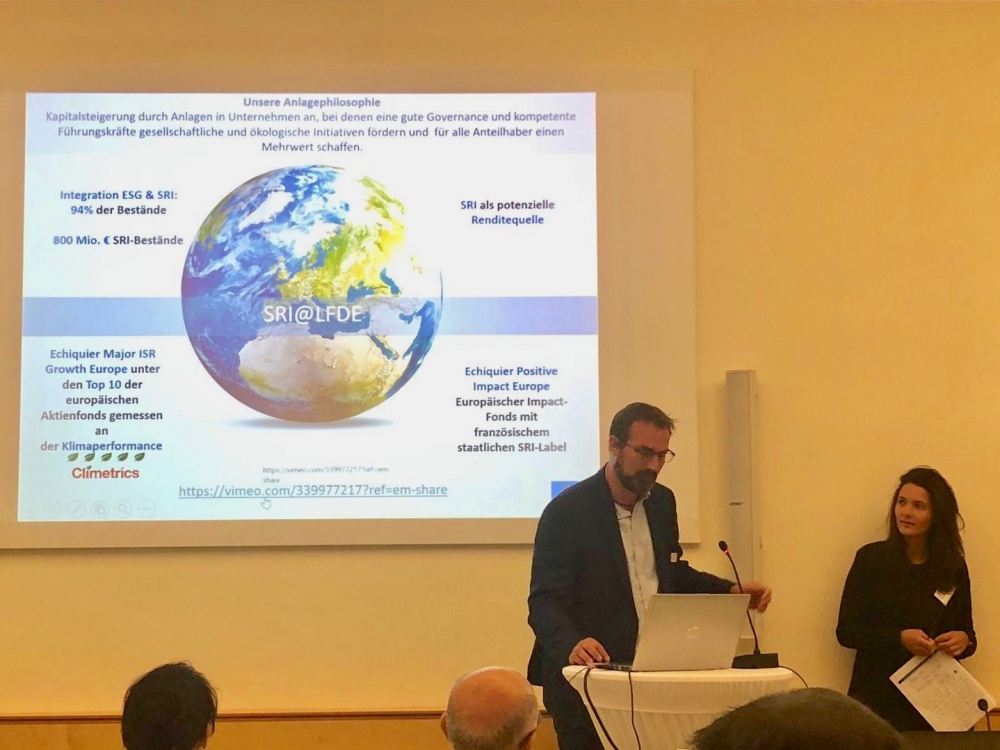 LFDE - From ESG Integration to Impact Investing
LFDE - From ESG Integration to Impact Investing
At the beginning of July, dragonfly.finance hosted Coline Pavot, SRI analyst at La Financière de L'Échiquier (LFDE) and John Korter, Country Manager for Germany and Austria in Vienna. LFDE, founded 1991 in Paris, has received very little from its total assets worth around ten billion euros from Austria so far. However, the demand for LFDE know-how is high and more inflows are expected soon
ESG pioneers from France start in Austria
Around the presentation of LFDE SRI expert Colin Pavot on the Institutional Money Congress on July 3, 2019, there were several meetings with institutional investors, who took the opportunity to exchange views on SRI with Miss Pavot.
Her know-how as an SRI analyst as well as the performance and investment style of LFDE equity funds met with broad interest.
ESG - how does it work?
Once again it became clear that corporate governance, for example the quality of the management, is essential for success - 60 % of LFDE 's internal rating points are based on the themes of "quality management", "checks & balances", "respecting minority shareholders", "assessment of minority shareholders" and "extra-financial risk".
The remaining 40 % of the internal rating is split between "environment" and "social". Here LFDE examines the criteria of the companies themselves, but also attaches great importance to the fact that the industries in which the companies operate comply with the SDGs (sustainable development goals) declared by the UN.
"Social" is about issues like employee loyalty and development, worker protection, supply chain monitoring, as well as social impact of the product, or relationship with civil society.
In Focus at "environmental" are guidelines and actions "or" results like the review of the supply chain and environmental impact of the product / service.
According to an internally developed rating system, points are awarded in these subject areas for the companies to be invested. The more impact, the higher the number of points, the greater the chance of an investment by LFDE.
LFDE - ESG-pioneers
Two LFDE equity funds, Echiquier Major SRI Growth Europe and Echiquier Positive Impact Europe have been awarded the French State Sustainability Seal. They prove that sustainability or impact and performance are not mutually exclusive - quite the contrary.
Another very special product is the Echiquier Entrepreneurs Fonds, which this year won first place in the Austrian Fund Prize (awarded by Fonds Professionell and the daily newspaper "Die Presse" in the category "Equity Funds Europe" - observation period 5 years).
In general, French asset managers are absolute pioneers when it comes to sustainability. The topic is being pushed by the state and France is even the only European country to award an official SRI seal.
External audit
LFDE has been applying its in-house sustainability criteria for 12 years and does not shy away from an additional external audit (conducted by Efires) - www.efires.fr) to differentiate itself from the ever-expanding green-washing activities of other providers.
"The next step to succeed in Austria will be the application for the Austrian Umweltzeichen or the FNG seal," says Susanne Lederer-Pabst, who, together with the dragonfly.finance team, is pleased to have another outstanding manager on board. "It's good to know that impact and sustainability are a real concern not only for us but for more and more managers and investors as well," concludes Susanne Lederer-Pabst.