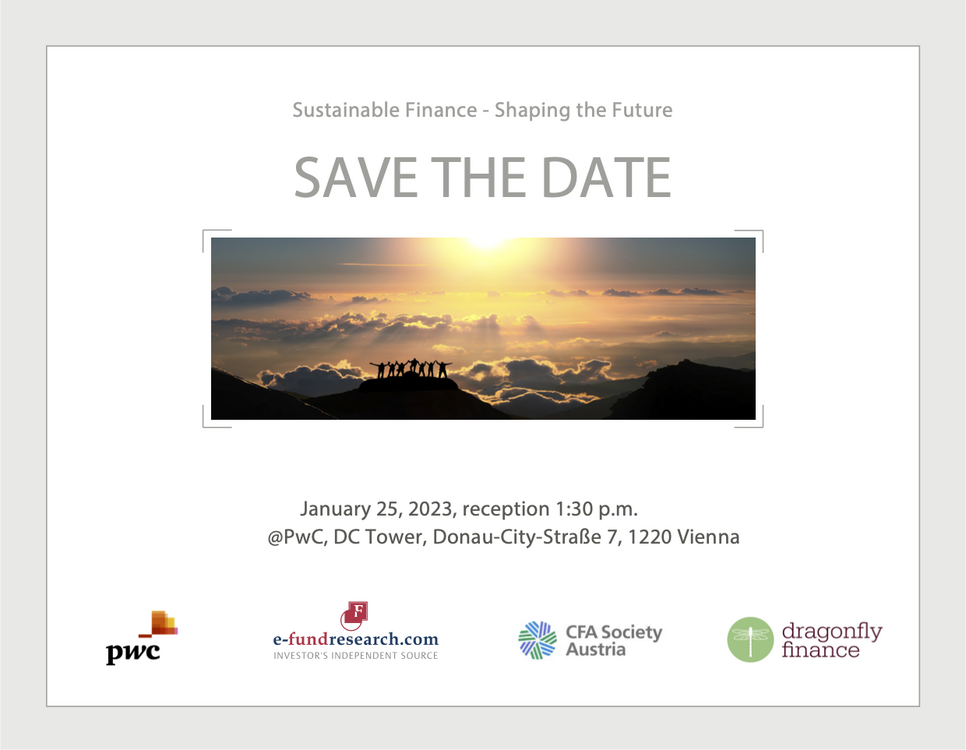 Live Event Jan25: Conference
Save the date
SUSTAINABLE FINANCE - SHAPING THE FUTURE
In the ESG area there are investment opportunities that help to change the world for the better, especially regarding ecological and social issues.
Dragonfly Finance and CFA Society Austria cordially invite you to an interesting afternoon.
Date: 25.01.2023
Time: 13:30–18:30 Uhr
Location: PWC, DC TOWER | DONAUS-CITY-STRAßE 7, 1220 Wien
We look forward to a top-class panel discussion and exciting company presentations:
13.30 – 14.00 Welcome Coffee and Registration
14.00 – 14.15 Opening von Susanne Lederer-Pabst, Dragonfly Finance &
Markus Poscher, CFA Society Austria
Adam Lessing, ESG Expert, Conference Chairman

14.15 – 14.35 Philipp Gaggl, PwC, Director, ESG & Sustainability Consulting
ESG management & reporting in the industry

14.35 – 14.55 James Lockhart-Smith, Maplecroft, Head of Markets & VP
Investing for Impact in Sovereign ESG
14.55 – 15.15 Peter Hafez, Ravenpack, Chief Data Scientist
Tracking real-time ESG Controversy with Language AI
15.15 – 15.35 Ole Jorgensen, Global Evolution, Director of Research
Frontier Markets - ESG integration for Impact and Returns!
15:35 – 16:00: Coffee Break16.00 – 16.20 Coline Pavot, LFDE, Head of Responsible Investment Research
Impact investing in listed equities
16.20 – 16.40 Christian Czernich, Round2Capital, CEO & Co-Founder
How private market funds can become a catalyst for positive change with the help of ESG
16.40 – 17.30 Panel discussion chaired by Adam Lessing
17.30 – 18.00 Q&A and Closing remarks by the Chair and the Organizer
18:00 – 20:00: Get together with Drinks & Fingerfood

Please register for the This email address is being protected from spambots. You need JavaScript enabled to view it.by January 20, 2023. For This email address is being protected from spambots. You need JavaScript enabled to view it.
Please understand that participation is only possible after confirmation of registration.
Accreditation: This event qualifies for 3 hours of Professional Development and MiFID II credits are available: www.diebildungsstelle.at
The detailed main topics can be found in this attachment: Sustainable_Finance_Conference_Details